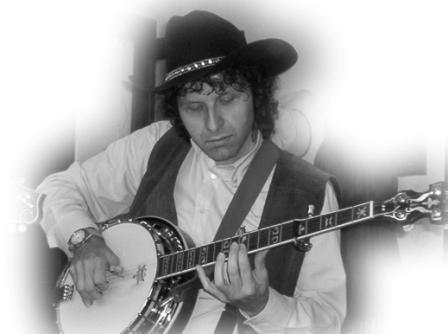 Remo Ceriotti
Mr. Cadillac
Remo "Mr Cadillac" Ceriotti started to know the stars and stripes world through the dreams of Emilio "The Uncle" Fumagalli...The Uncle was an artist: painter, sculpturist and overall a polyinstrumentist. In the beginning of 80's he is one of the pioneers of bluegrass music here in Italy and Mr Cadillac grew up and received the right musical education in this family's spirit..

USA culture goes into the blood of Remo and not for istance Remo himself had an economics degreee with a work on the USA trucks also called "the eighteen wheelers". In that period, we're in the beginning of 90's, he started to play 5th string banjo, then he took in his hands a folk guitar in order to sing old country & western hits of Waylon Jennings, Dwight Yoakam and Johnny Cash. At the turn of century started the love for the squareneck dobro and the pedal steel...

During the beginning ot the 21st century Remo materialized one of his child's dream: drive the big Cadillac boats of the 70's. In fact in few years he become Mr Cadillac and there no better nickname like this one. In his barn now are placed a marvellous 79 white cotillon Coupe Deville , an elegant red cherry 77 Sedan Deville and a huge red firethorn 74 Eldorado convertible. Also "The Uncle" is involved in the caddies' fever, his dream is the 59' model year the one with the bigger tail fins...

Starting from 2002 Remo flies to USA 2/3 times per year driving on the old two lanes roads from north to south, from east to ovest researching the roots of the american dream.
Jan 7th 2007 "The Uncle" left this sad, sad world playing the gospel song "Will the Circle be Umbroken" and the opening evening at Nebraska Wine Bar managed by Mismountain Boys' Roadie Manager was completerly dedicate to him.